Jan 1, 2023 12:55 AM Central
2022 was a year unlike any other. It was filled with both joy and pain, but in the end, it was one of growth and resilience.
Kaitlin turned 14 and started HIGH SCHOOL. How is she going to be 15 in just a month?!
Sarah turned 13 and learned to adapt to change when a friend moved after losing her mom.
Leah (the baby...but don't tell her that I called her that) turned 10 and started middle school. Did her personality ever come out this year.
I am BLESSED and thrilled to be their mommy and look forward to every day with them in 2023.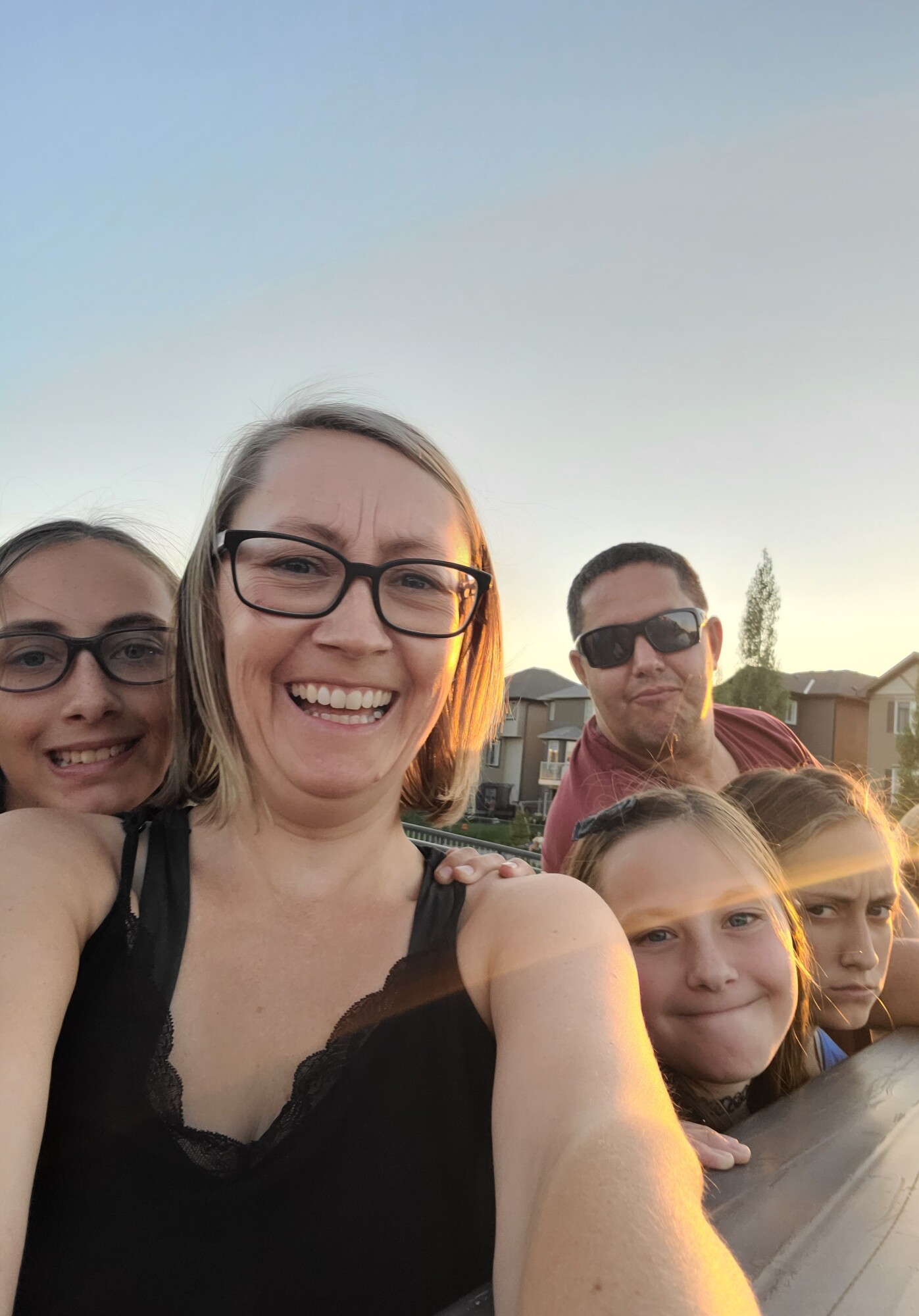 Why are family pictures so challenging to take...lol. This is us!
I celebrated 15 years of marriage with ups and downs, laughter, loads of adventures, connection and love. F I F T H T E E N years. That's huge.
I went back to work for the first time in 14+ years. I was angry that it had come and felt like I a failure...but was pleasantly surprised. Being surrounded with children and playing during my work hours makes me happy, feel worthy and needed.
I packed up a home...the only home my daughters knew. A home we called home and that holds 15 years of memories. We found our dream home in a crazy housing market. If you need a realtor for the Calgary and surrounding area I can set you up. Carlin was the bomb and made the whole house hunting and preparing our home less stressful and enjoyable. She helped us find a home we love and one we will continue to make many memories in. We are still in awe and after 5 months say "how is this house ours".
I created and self published seven books onto Amazon. Five journals and two colouring and activity books. I am busy working on completing my written children's book in my little bit of spare time. It is coming and when it is ready it will be absolutely perfect. I recently connected with an amazing illustrator with beautiful artwork so it is coming. I am just SO proud of myself.
I enjoyed watching and cheering at multiple games as my middle and oldest daughters ran on the soccer field scoring goals, giving it their all and playing as a team.
And for the not so easy part of my year...a year full of tremors, jerks, headaches, body pain and discomfort, MRIs and learning I have brain lesions. Dizziness, numbness, brain fog, muscle spasms, weakness, balance issues, blurry vision, extreme sensitivity to cold, stiffness, perception difficulties, sleep disturbances, fatigue, hot flashes in my legs and more. Most would be beside themselves with this occurring day in and day out and more so when doctors refused to give answers, not listen and say it is "nothing" yet utter words like multiple sclerosis and lyme disease. Through it all I have stayed positive (since the very start in July 2021). Eighteen months later and still no real answers I continue to stay positive but some days are challenging and staying in bed till noon is just what my body needs. I am hoping and praying for more answer soon so I can do my best to heal my body and have more good days.
It was certainly not an easy year, but one that I am so proud to have survived!
A few things that kept me going
with the obstacles I faced was acceptance. Even though it felt when I took two steps forward, something would happen that would push me three steps back, I accepted my situation for what it was. This allowed me to focus on finding solutions rather than wallowing in self-pity or beating myself up for things that were beyond my control...I would give myself time, cry and pick myself up and continue. I found the things I was grateful for and focused on them.
I surrounded myself with supportive people (and I am BEYOND thankful for them).
These people lifted my spirits and showed me I have so much to be grateful for. Family members, friends, even co-workers; they all played a role in helping me stay positive even when things didn't always seemed positive. Knowing that there were people rooting for me kept me going.
I took care of myself —mentally and physically. Whether this meant taking time out each day for positive affirmations, self care, prayer, cuddling with my girls, binge watching Netflix, creating my books or staying in bed till noon; whatever gave me peace of mind, body and wellness became a top priority throughout 2022.
In the end, 2022 turned out pretty fantastic. Most importantly, however, is the fact that I learned so much about myself during this journey through growth, acceptance and resilience.
I look forward to 2023 and walk in with a clean slate and filling the pages with love, more growth and health.
Happy New Year. Sending blessings, health, happiness and the best in 2023!