May 7, 2022 05:16 PM Central
2022 started a new adventure for me. After staying at home and running a dayhome while my girls went through all the fun stages as a baby, toddler, preschooler and all the way to the pre teen stage, it was time for me to step out into the what I call "working out of the home". With much hesitation at the beginning, I have found my grove of working (part time/casual) mom.
Mornings can be CRAZY. Am I right?
Getting my girls out of bed and organized for the day. Breakfasts served, lunches made, getting them to the bus and out the door and in all of that crazy, I would often forgot about myself (so said my growling stomach when I didn't get a break at work to eat).
I discovered something quick, easy AND super nutritious made with pure, sustainable and whole foods that fit into our gluten free home.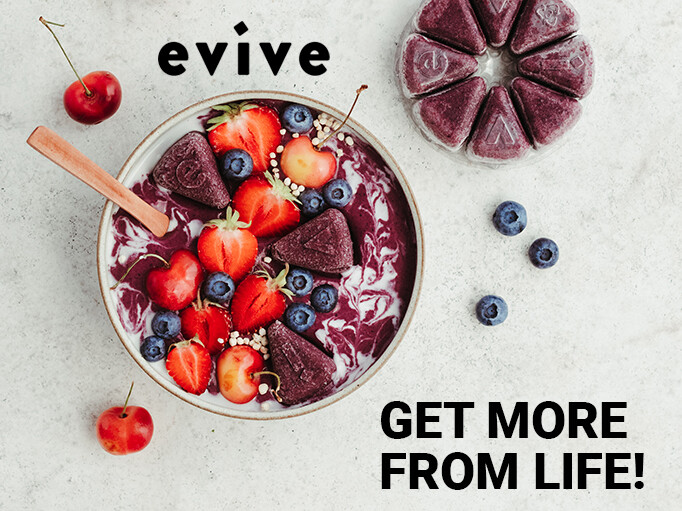 At Evive, they take wellness and well-being into factor. With their pre-made frozen smoothies and lunch cubes (soup too, y'all 😍). These little cube wheels are innovative and versatile, and actually pretty perfect for the whole family. Plus they are quick during the morning rush that are also satisfying and fill you up.
My daughters like to pull a wheel out at breakfast and chomp on it frozen. I run a full cube wheel under warm water while I fill a cup (with a lid) with some plain yogurt, a drop of milk and a shot of Ningxia red; for that extra shot of energy and nutrition. Then I pop all 8 pieces in, put the lid on the cup and shake till blended. In less then 3 minutes from start to finish Im drinking this healthy satisfying and super tasty smoothie!
With over 13 flavours everyone in the family will be pleased. Created with organic, non-gmo ingredients, no added sugar and packed with protein and superfoods including; chia and hemp seeds, acai berries, b
lue spirulina, c
hlorella, t
urmeric,
c
hai spice, camu camu, c
ocoa, b
aobab and g
oji berries which all provide a
n excellent source of Vitamin A, B6, D, E, K, Potassium, Magnesium, Iron and more.
These fun, easy and quick cubes
can help in warding of disease and keep your body healthier and happy by increasing energy promoting heart health, weight loss and reducing the effects of aging. We all want this, don't we?
When I had the chance to partner with Evive I jumped. I want to help bring smoother mornings and more wellness to your homes.
If your home is as busy as mine you will want to give them a try...our favorite right now?
Samurai, a strawberry, raspberry, beet and date blend.
Feel free to grab some here and enjoy an extra 30% off with free shipping and have them delivered directly to your door.
https://www.shareasale.com/u.cfm?d=904969&m=107983&u=3240379
Cheers to smooth mornings!
*For my Canadian shoppers switch over to Canada at the bottom of the page.
*
Disclosure: I only recommend products that my family and I would use and love. All opinions expressed here are my own.
This blog contains affiliate links that are at no additional cost to you, I may earn a small commission from sales made through this link.
---